Great Knife Makers For the Early West By James Gordon
http://www.tactical-life.com/tactical-knives/great-knife-makers-for-the-early-west-by-james-gordon/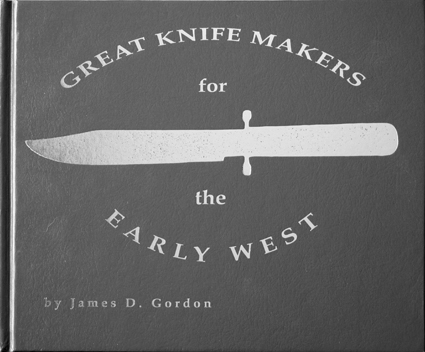 Hard cover, 285 pages, $85. Published by the author James Gordon. 808 Paseo de la Cuma, Dept. TK. Sante Fe,
Chapters are broken down by "knife types," "English makers," and "American makers." Despite the legend of the Russell Green River knife, the vast majority of knives used in the early beaver trade were from England, with Wilson and Furniss being the apparent favorites. The author has an excellent selection of specimens from both makers to illustrate that fact.
The Bowie Knife: Unsheathing an American Legend
Norm Flayderman
http://www.abebooks.com/servlet/SearchResults?an=flayderman&sts=t&tn=the+bowie+knife
From Norm Flayderman, perhaps the best-known name in arms collecting,comes this exciting new book on the Bowie Knife. All we can say is 'You will be astounded...It's great.' The size and quality of this book make it a huge bargain. It is a deluxe edition, printed entirely in color, with hundreds of massive, professional photographs showing every detail of your favorite knives. As an added bonus, the photos also contain a countless selection of some of the best guns and swords that you will ever see - so while this is technically a knife book, it truly has something for everyone. For instance, there is a large chapter on Dueling in America, and the Civil War chapters are a book in and of themselves. This is simply a 'must-buy' purchase for any collector of antique weaponry. You won't be disappointed. 512 pages, 9 inches x 12 inches; Hardcover.
Metallic Cartridge Conversions Hardcover
by Dennis Adler  (Author) , Tom Selleck (Introduction) , R. L. Wilson (Foreword)
http://www.amazon.com/Metallic-Cartridge-Conversions-Dennis-Adler/dp/0873493370/ref=sr_1_1?ie=UTF8&qid=1382663274&sr=8-1&keywords=metallic+cartridges+conversions
Collectors and enthusiasts can track the history of the original conversions of the 1800s through historic text and both new and archival photographs. All current modern reproductions are represented with photographs, technical details, and performance test results. In-depth coverage of the original revolvers includes models from Colt, Remington, Smith & Wesson, Rollin White, Richards, and Richards-Mason. Modern guns from American Western Arms, Navy Arms, and Cimarron F.A. Co. are highlighted. Includes a full-colour section highlighting engraved and presentation models.
The skinning knife Hardcover – January 1, 1996
by M. H Cole (Author)
Vous pouvez le trouver sur Amazon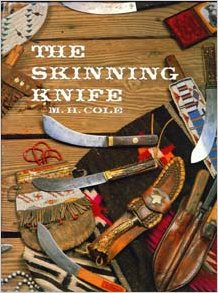 This is a wonderful book. M H Cole is a masterful illustrator the likes of which are extremely few and far between. Tragically his books are out of print and difficult to find. "The Skinning Knife" is still available in good condition and at a very reasonable price. I would encourage any serious knife collector to aquire a copy if at all possible. It chronicles this vital segment of our nations knife history expertly with fondness and respect. M H Cole is a BLADE magazine Hall of Fame member, and desevedly so. This book is a splendid example of his work and not to be passed over. - Paul Granger
NEW FRONTIER
Catalogue accompanying the The New Frontier, an exhibit of artifacts and art from the Gilcrease Museum collections featured at the Palazzo Pitti in Florence, Italy. Italian and English.
Paperback, 229 pages with index. Full color.
http://gilcreasestore.utulsa.edu/browse.cfm/new-frontier/4,204.html