Small cast iron cook stove made by J. Bradbury & Co. Newburyport, Mass. Iron kettle and iron boiler also with the stove. Mkd: "J. Bradbury & Co./ Newburyport, Mass."
Probable Date before 1839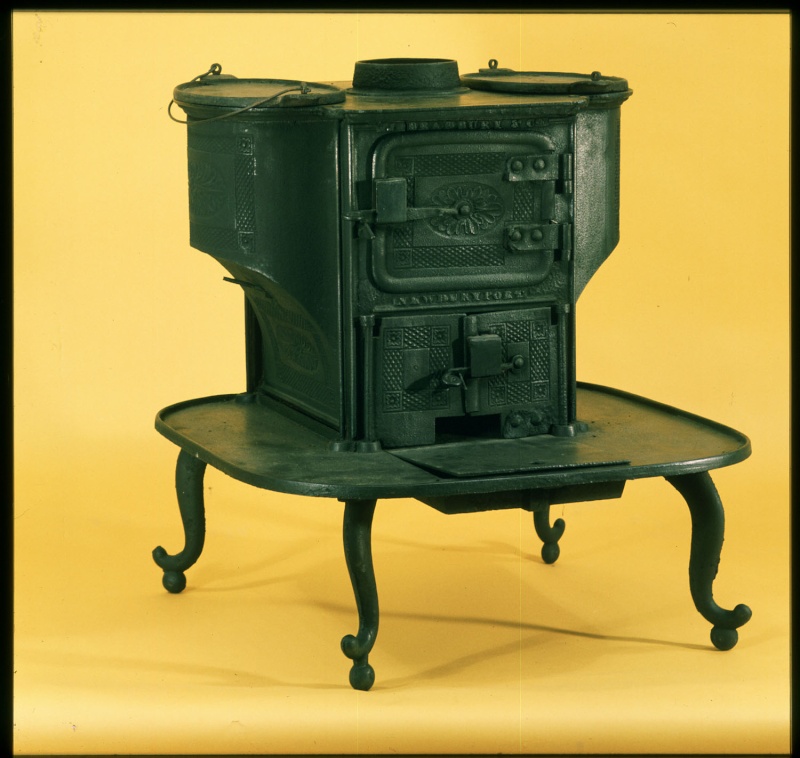 The W. T. James Patent cast iron cooking stove was patented in 1815 in Union Village or Troy, New York. It was the first widely successful cooking stove that was made and sold in the northeast and with minor changes continued to be popular well into the 1830s. It was commonly known as a "saddlebag stove" because of the projecting jogs on either side that contained the boiling holes. The firebox, which burned wood, was at the base of the stove below the oven. Heat could be directed by dampers to the boiling holes at the sides or to the oven for baking. Because the firebox was small, firewood had to be cut into smaller sticks than what were commonly used in the fireplace. Although this is the next to the largest size of the James cookstoves, it is still very small by modern standards. It measures 40" long by 32" wide, but the height is only 28" compared to the standard 34" height of modern kitchen ranges. Cookstoves were often sold with a complete set of "furniture," which may have included pots and kettles, a water boiler, frying pans, griddles, tea kettle, and other cooking utensils.
Probable Date c. 1825-30
Cast iron cooking stove, so-called step or horse block stove with 2 low (8" dia.) boiling holes at front above fire box & 1 larger (9 1/2" dia.) hole on raised surface above rear oven. Large rectangular hearth w/rounded corners and sliding hearth plate above recessed ash pit. 2 front loading doors & one side door to fire box. Oven located in narrow section at rear with doors at both ends. Oval smoke outlet at rear; sliding damper plate with handle at rear directs heat around oven or allows it to flow directly from firebox, under top boiling hole and above oven out to chimney. Boiling hole covers all cracked and repaired with plate rivetted to bottom sides; bails on covers. Simple decoration consists of sprays of leaves & flower centered on doord & open panels & set into corners; 2 fluted comumns on front of firebox. 3 cast iron legs; rear leg longer to reach elevated base of oven. Mkd.: "PERFECT PREMIUM".
Probable Date 1835-45
Small cast iron cookstove of "Step Stove" style. Rectangular hearth projecting 8 1/2" in front of firebox; rectangular firebox w/curved ends has double doors on front, single door on right end and cooking surface on top. Oven behind firebox steps up about 4" higher. Oven has doors on either end & cooking surface above it. Elongated oval smoke outlet at back of stove. 3 Narrow legs w /partially articulated claw feet; rear leg taller. Sliding cover over sunken hearth in front of firebox doors. 4 boiling holes at 2 different levels on top of stove. Section of top plate between pairs of boiling holes is removable & has socket for a lifter. Remaining 3 holes are covered w/shallow, handled griddles. Door latches are cast; panels & doors are decorated with a simple diaper pattern. Sliding dampers on top of oven chamber can be opened & closed to allow heat to circulate around oven or be directed to boiling holes on top. One oven rack in place. Marked: "Wm.V. MANY, ALBANY."
Probable Date C. 1837-1843